DISCOGRAPHY & MERCH
DISABLED "The Final Exhumation" [1996 recording] Digipak CD 2020 (Xenokorp)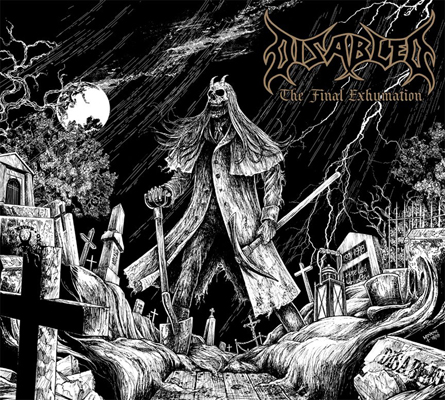 1- Intro: Exhumation 2- Massacred by Slitting 3- The Beast of Csejthe 4- Ultimate Desecration (Instrumental) 5- Stab-wound Butchery 6- Abolish the Church
7- Child Abuse (Instrumental) 8- The Eagle of Eli 9- Outro: Back to the Beyond
Line-up: Stéph Morillon (Vocals) - Eric Moyen (Guitar) - Pascal Bironneau (Bass) - Laurent Roy (Drums)
Intro & outro by: Chris Moyen
DISABLED "The Final Exhumation" [1996 recording] Tape 2018 (Anti Human Conspiracy)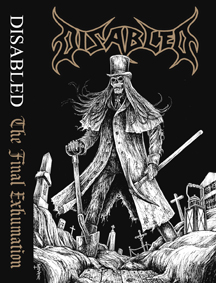 1- Intro: Exhumation 2- Massacred by Slitting 3- The Beast of Csejthe 4- Ultimate Desecration (Instrumental) 5- Stab-wound Butchery 6- Abolish the Church
7- Child Abuse (Instrumental) 8- The Eagle of Eli 9- Outro: Back to the Beyond
Line-up: Stéph Morillon (Vocals) - Eric Moyen (Guitar) - Pascal Bironneau (Bass) - Laurent Roy (Drums)
Intro & outro by: Chris Moyen



DISABLED "When All is Slayed..." Double CD 2012
(Armée de la Mort / Legion of Death records)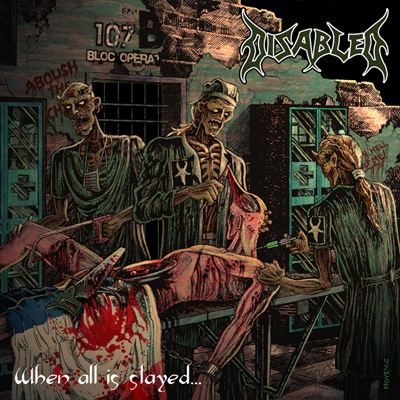 DISABLED was performing some bestial and impious Death Metal. The band existed from 1991 to 1998.
This DOUBLE CD features "Faith Ablation" MCD '97, the 3 demos '92 / '93 / '95 & live recordings including 11 UNRELEASED TRACKS!!!
The 32 pages booklet is illustrated by Chris "Thorncross" Moyen, who is the brother of DISABLED's guitarist.
Discover or rediscover one of the most brutal bands from the french Underground !



DISABLED "Faith Ablation" MCD 1997 (Craziness musix)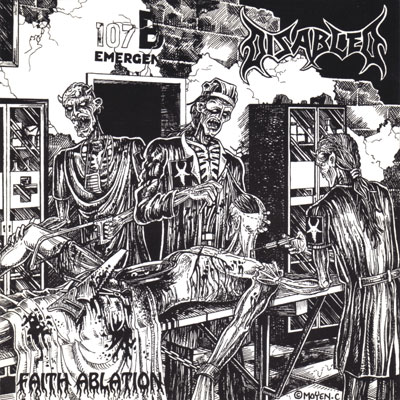 1- Intro: Faith Ablation 2- Massacred by Slitting 3- Abolish the Church 4- Stab-wound Butchery 5-Tormented Soul 6- The Beast of Csejthe
Line-up: Stéph Morillon (Vocals) - Eric Moyen (Guitar) - Pascal Bironneau (Bass) - Laurent Roy (Drums)
Intro by: Gilles Bordonneau



DISABLED "Here Lies Your God" demo 1995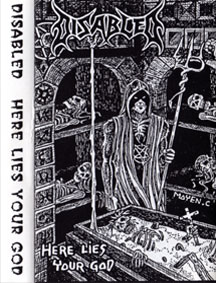 1- Dethroned by Fire 2- False Belief 3- Tormented Soul
Line-up: Stéph Morillon (Vocals) - Eric Moyen (Guitar) - Pascal Bironneau (Bass) - Laurent Roy (Drums)
Backing vocals by: Dorothée Jouffreau



DISABLED "The Fall of Christ" demo 1993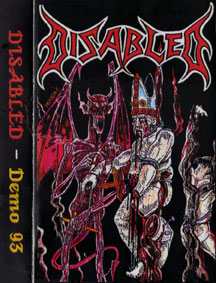 1- Intro: The Evil 2- Green Flesh Messiah 3- Deliverance of Black Forces 4- Burning Pentagram 5- The Forest of the Damned 6- Praise the Beast
Line-up: Stéph Morillon (Vocals) - Eric Moyen (Guitar) - Pascal Bironneau (Bass) - Laurent Roy (Drums)
Backing vocals by: Jérôme Klonig
Intro by: Ludo 'Evil' Lejeune



DROWNED demo 1992 & DISABLED demo 1992 (Reissue with new artwork & new name)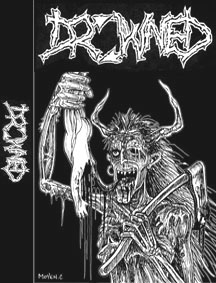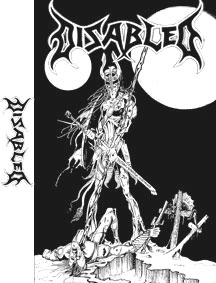 1- Intro: Sadness & Sorrow 2- Senseless Acts 3- World Turned Towards Hell 4- Mass Resurrection
Line-up: Stéph Morillon (Vocals) - Pascal Bironneau (Vocals) - Romain Qunisac (Guitar) - Phil Paya (Guitar & bass) - Laurent Roy (Drums)



"Impious Death Metal" T-shirt 2020 (Xenokorp)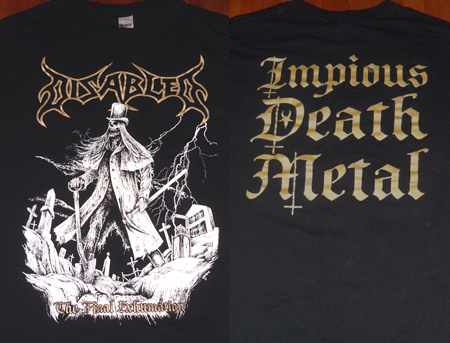 "Faith Ablation" T-shirt 2019 (Xenokorp)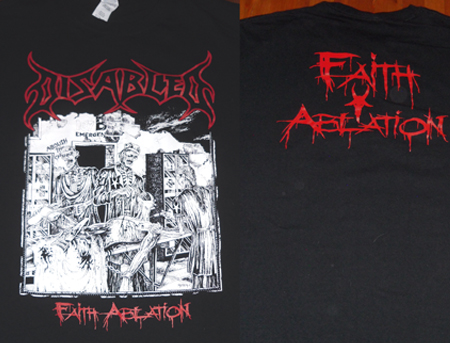 "7 Years of Sonic Violence" T-shirt 2014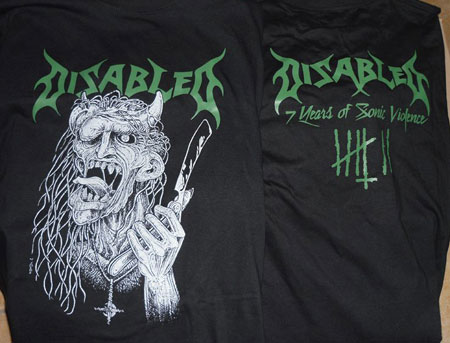 "Here Lies Your God" Long sleeves 1996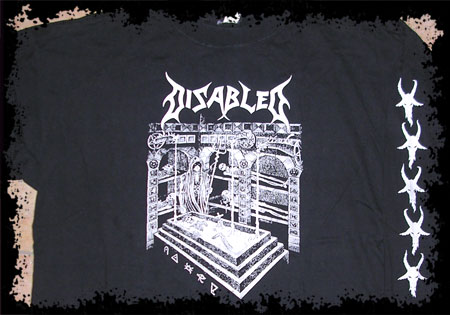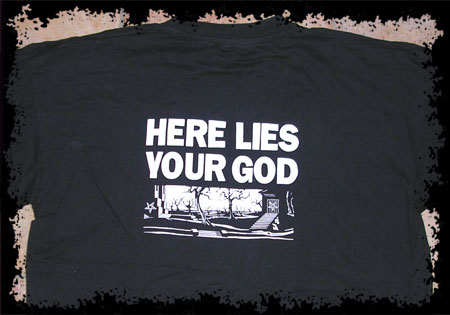 "Green Flesh Messiah" T-shirt 1993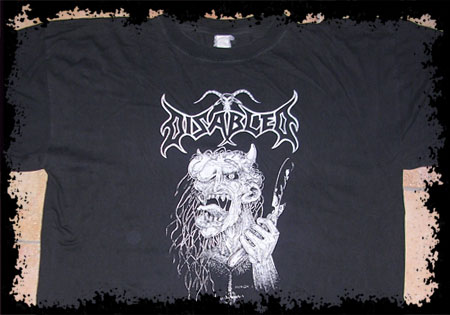 "Disabled" T-shirt 1992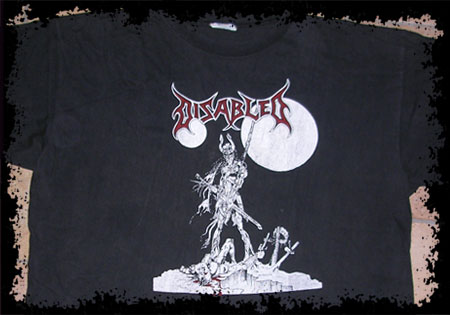 plaster sPlaster sculpture limited edition 1993ture